Reviews
Published on December 4th, 2013 | by Muse Shake
0
PS4 and Playstation Plus – is it worth it
I whole heartedly believe that playstation plus is a good service especially if you own more than one sony console.  For around $70 a year you have access to a great range of games, some of which a worth almost the subscription fee itself.  It allows and encourages you to try games that might not have even reached your radar without it, and even though not all of them will be good, it's still good for gamers.
Purchasing both consoles this month has left me a little bit weaker on the dollars side of the spectrum, and with Christmas incoming purchasing games might have to wait for a few more weeks.  This is where game subscription serves like PS plus and the new addition to Xbox Live Gold are a god send.  I had literally nothing to play on my new sony console, and I know I'm not alone in my predicament, so I've decided to give a quick review of the two titles for free on PS4 through PS plus for anyone on the fence about purchasing.
Contrast is an intriguing little game with Art Nouveau,  Noir styles and interesting shadow puzzles.  You take control of Dawn an acrobat and sort of imaginary friend of the games young protagonist Didi.  It's not really clear why you're hanging around with this girl but she lives with her mother and has a taste for adventure and fixing things, or perhaps more correctly making you fix things.  The adventure starts with you and Didi sneaking out to watch her mother sing at a local cabaret bar, and sets the tone impeccably for the game.
This game is heavily laden with atmospheric feels and genuinely curious art that for the first half hour or so I was completely under the spell, but it des dwindle the more you play.  The game doesn't cease to be beautiful, it just allows clunky controls and less innovation in puzzles than would be nice to spoil the magic.  It also has moments where goals are not clear, and although the puzzles are never too difficult a little direction wouldn't go astray at times.
The best way to rate this game is interestingly average.  The beauty and the promise of a potentially good puzzle keep you going to the end, and the game is relatively short so this isn't too difficult a task.  If you took away the pretty and reskinned Contrast the game would be entirely lack luster, but there's just enough interest to make it a worth while game to play, but perhaps only when it's free.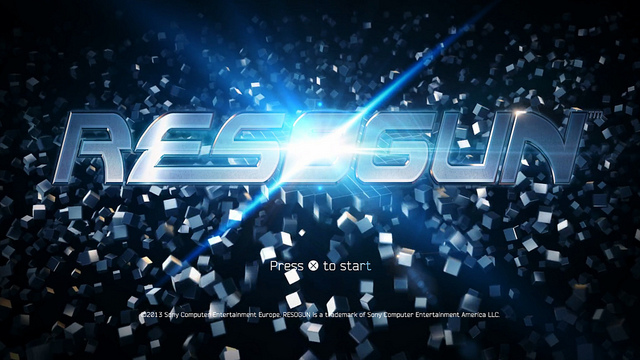 This game is almost complete … contrast.. to Contrast.  The one thing both games do have in common is their lack of initial instructions.  Resogun lets you select your mode, which you have no idea what they are, tells you your controls, and lets you go.  The quick game launch is good in a way but it took many play throughs and a few discussions with other people to work out what the goals actually are.
Resogun is a side scrolling shooter of sorts, where you have a sort of ring of territory to defend from an onslaught of what are probably aliens.  Humans are trapped in boxes for you to defend, and are released when a series of 'keepers' are defeated.  You then need to escort them to safe points to save them, though sometimes I've had them die and I don't understand why or how.  You gain points from what I assume is a mix of saving humans and a multiplier style accumulation which comes from killing baddies.  This is what I've managed to work out about this game thusly, so I'll go in to the question of 'is it fun' from this point on.
Yes.  Resogun is fun!  It's one of those time sink have another go games where your constant quest to beat your previous high score can rob you of daylight.  That being said it is also very simple, like something you expect on a phone game for a few dollars.  The graphics are pretty, and it's nice to have something shiny and sleek to show off on a new console but it is one of those games that will be forgotten in a month, and I'm probably only playing now because I have nothing else.
Again it is a case of it's nice for free, but I don't think I'd be buying it.  That being said if you're looking for things quick and cheap on your PS4 for right now, a month subscription to Playstation Plus is around $10 and these games are probably worth that together.  It will also give you a 20% discount on Trine 2 which looks stunning on the ps4 (in 3D as well) and I highly recommend – so the subscription is almost worth it for that in itself.
What is the best game you think has ever hit PS plus?  What games are you slamming on your PS4 and can recommend for others to play?  Let us know in the comments!